Posted: December 17, 2014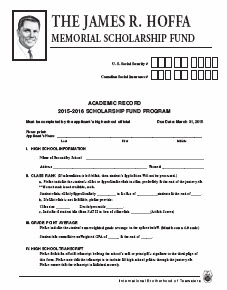 James R. Hoffa became a Teamsters Member in 1934, served as General President for 14 years, and, in recognition of his tireless service to the union, was honored as General President Emeritus for life. At the November 1999 General Executive Board meeting, then-General Secretary-Treasurer C. Thomas Keegel presented a resolution to establish the James R. Hoffa Memorial Scholarship Fund.
The James R. Hoffa Memorial Scholarship Fund awards scholarships annually to outstanding high school seniors. The deadline for application submission is March 31, 2015. All applicants must comply with the following eligibility and application criteria.
Be the son, daughter or financial dependent of a Teamster member (hereafter also referred to as "Teamster Member Relation") who qualifies (or in the case of retirees, has qualified) as a member in "continuous good standing" in the Teamsters Union as defined in Article X, Section 5 of the International Constitution;
Be in his/her last year of high school and may not apply if he/she has already graduated from high school;
Be in the top 15% of his/her high school class;
Plan to submit excellent SAT or ACT scores for evaluation (U.S. only);
Plan to attend an accredited four-year college or university. Those who plan to attend non-academic
or certificate programs or community college may not apply.